Another successful event with  54  persons in attendance.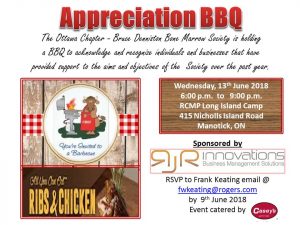 (Click on photos to enlarge)
An enjoyable evening of fellowship and a fine dinner was catered  by Casey's Gloucester owner, Roy Bartlett and staff.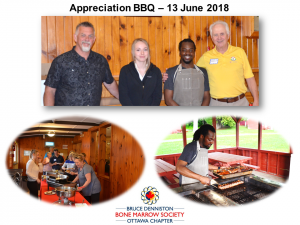 We also wish to extend our gratitude and thanks to Ron Sorrell, owner RJR Innovations for their sponsorship and support of this Appreciation BBQ.
This was a very special evening; the Ottawa Chapter had the pleasure of a visit from Stu Schwartz AKA as Stuntman Stu, Magic 100 morning co-host.  Stu was diagnosed with leukemia in February 2016. He was given mere months to find a bone marrow donor and undergo a transplant to help fight the cancer.  A donor was located and our Ottawa Chapter Courier, Francois Hummell, was instrumental in providing the pick up and transportation of the Bone Marrow from Israel to Ottawa.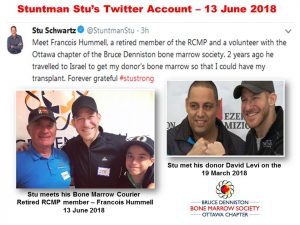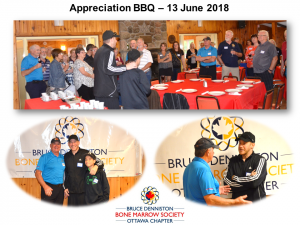 Gary Walkling, Courier Program Director recognized the contribution of two Ottawa  chapter members; John McNamara (The Ottawa Hospital Coordinator) and Jim McCuaig (Hamilton Hospital Coordinator). Their administrative assistance to the Courier Program this past year has indeed been appreciated.  Thank you John & Jim.
We wish to recognize another Ottawa Chapter member; Frank Keating for this assistance in coordinating this event. Frank's administrative and organizational skills are indeed appreciated.   Thank you Frank.
President Brent MacDonald extended the Ottawa Chapter's gratitude and thanks to invited guests, and Couriers in attendance for their support, contributions, dedication, and commitment to the Chapter's aims and objectives during the past year.