The Ottawa Chapter  hosted  the annual  Appreciation BBQ on Wednesday, 21st September 2016 at the Long Island Conference Centre and Recreation facility.
Thirty-five (35)  persons were in attendance who enjoyed a fine dinner catered by Roy Bartlett and staff from Casey's Gloucester.  President Brent MacDonald extended the Ottawa Chapter's gratitude and thanks to invited guests, and Couriers in attendance for their  support, contributions, dedication, and commitment  to  the Chapter's aims and objectives during the past year.
We also wish to extend our gratitude and appreciation to RJR Innovations,  for their continued support of this event.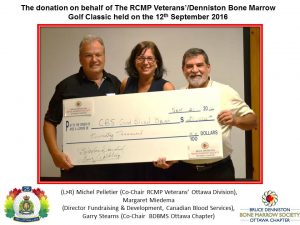 As well as a special evening recognizing the contribution of our guests and Couriers;  Co-Chairs of the RCMP Veterans'/Denniston Bone Marrow Golf Classic 2016; Michel Pelletier (RCMP Veterans' Vice President) and Garry Stearns, (Ottawa Chapter Vice President),  presented a $20,000 donation to Margaret Miedema, Director of Fundraising & Development, Canadian Blood Services in support of the Cord Blood Bank project.
Photos of the evening can be viewed by clicking on the following link.