Our Mission: To improve the quality of life for those affected by blood-related illnesses and ensure a legacy so those who have gone before us are not forgotten.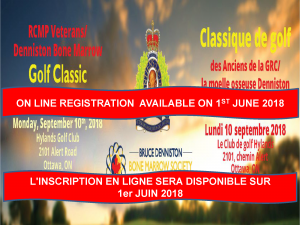 The golf season will be soon upon us and time to consider attending the 2018 RCMP Veterans – Denniston Bone Marrow Golf Classic – 10 September 2018 @ Hylands Golf Course. 

On line registration will be launched on the 1st of June – Mark your calendars.   
Be Part of the Summer Recruitment Team
Canadian Blood Services is looking to engage external networks to become part of the summer recruitment team. Blood donations have dipped this summer, and there is currently an immediate need for Rh negative blood groups. We can help turn a negative into a positive by getting social and spreading the word.
Even if you are not able to donate, you CAN still make a difference by encouraging others to do so. 1 in 4 Canadians is eligible to donate, yet only 1 in 60 actually does; we have the power to help change that. The theme this summer is Count Me In. Let's show Canadian patients that they can count on us. This is Canada's blood inventory after all!
The Ottawa Chapter address is:
500 – 1400 St-Laurent Blvd.
Ottawa, ON
K1K 4H4