Our Mission: To improve the quality of life for those affected by blood-related illnesses and ensure a legacy so those who have gone before us are not forgotten.
EARLY BIRD DRAW – CLICK ON FOLLOWING POSTER FOR DETAILS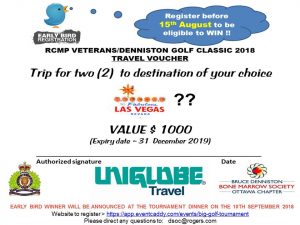 REGISTER ON LINE @
https://app.eventcaddy.com/events/big-golf-tournament
We Are  OPEN  For Business!
It is time to plan your annual golf tournament schedule. 
This is your invite to join us on 
Monday, September 10th, 2018 for the annual
RCMP Veterans / Denniston Bone Marrow Golf Classic
Don't be disappointed, register early
to ensure your spot in this enjoyable event.
REGISTER ON LINE @
https://app.eventcaddy.com/events/big-golf-tournament
WE APPRECIATE YOUR SUPPORT AND PARTICIPATION.
You can not golf and wish to make a donation to this Charity Event
please access our link: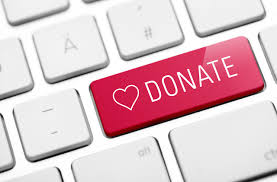 Be Part of the Summer Recruitment Team
Canadian Blood Services is looking to engage external networks to become part of the summer recruitment team. Blood donations have dipped this summer, and there is currently an immediate need for Rh negative blood groups. We can help turn a negative into a positive by getting social and spreading the word.
Even if you are not able to donate, you CAN still make a difference by encouraging others to do so. 1 in 4 Canadians is eligible to donate, yet only 1 in 60 actually does; we have the power to help change that. The theme this summer is Count Me In. Let's show Canadian patients that they can count on us. This is Canada's blood inventory after all!
The Ottawa Chapter address is:
5 Beechwood Avenue
PO Box 74226,
Ottawa, ON
K1M 2H9