On the 7th September 2016 at Rideau Hall two members of the Ottawa Chapter, Brent MacDonald and Gary Walkling received the Sovereign's Medal for Volunteers from The Governor General of Canada His Excellency the Right Honourable David Johnston.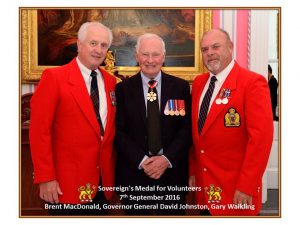 The Sovereign's Medal for Volunteers recognizes the remarkable volunteer achievements of Canadians from across the country in a wide range of fields.  As an official Canadian honour, the Medal for Volunteers incorporates and replaces the Governor General's Caring Canadian Award.  The Medal builds on the legacy and spirit of the Caring Canadian Award by honouring the dedication and commitment of volunteers.
The Ottawa Chapter extends congratulations to Brent and Gary.
Photos can be viewed at the following link:
Sovereign's Medal for Volunteers_07 Sept 2016